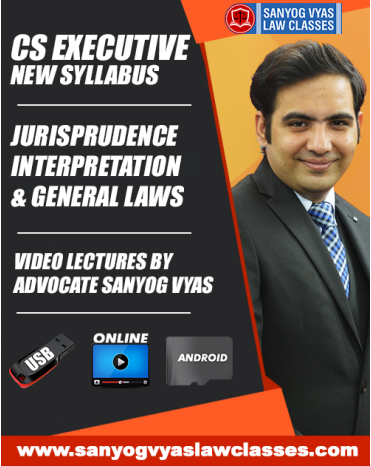 CS EXECUTIVE NEW SYLLABUS-JURISPRUDENCE,INTERPRETATION & GENERAL LAWS
Product Code: SVLC- 015
Availability: In Stock
Format
Pen Drive/Online Download/Sd Card
Duration
55 Hours
Video Language
Hindi
Faculty Name
Adv Sanyog Vyas
Course Material Language
English
Video Runs On
Windows Based Computer & Laptop
Package Details
Video Lectures + Study Material
Sold & Dispatched By
Sanyog Vyas Law Classes
Item Code
SVLC-015
Exams
CS EXECUTIVE
Validity
31st Dec 2018/30th June 2019
No. of Views
Unlimited
Study Material Format

Printed Book(Hard Copy)

Doubt Solving Facility
Email, Whatsapp, Call
View Demo
Delivery

Home Delivery within 7-10 days from the date of Payment Confirmation

ONLINE DOWNLOAD link will be shared via Email within 24 hrs.

Dispatch

Pen Drive will be dispatched within 24 to 48 Hours after the purchase.

ONLINE DOWNLOAD link will be shared via Email within 24 hrs.
Product Description
Duration:55 hrs
1. Unlimited Views.
2. Entire Syllabus (CS Executive) Covered.
3. Complete Study Material (Books & Test Series).
4. Doubt Solving Facility Available.
5. Case Study & Past year Important Questions Covered.
6. Student Friendly Teaching Style.
7. Flow Charts and Pictures used for Better Presentation.
8. Technical Assistance Available.
Video lectures runs on -
1. Operating System:
Windows 7 Home Premium Service Pack 1 or above, Windows 8, 8.1, Windows 10. (NOT Compatible With: Windows XP, Windows Vista, Windows 7 Starter, Windows 7 Basic, Windows 7 N Edition, Windows 7 K N Edition, Apple).
2. Ram: 2 GB free memory.
3. Processor: Core 2 Duo 2.0 GHz and above.
4. Android App-Compatible with all Android versions Except 5.0 and 5.1.
5. Lectures will run till Validity period opted at the time of purchase.
6. Lectures will run on one system only.
Write a review
Note: HTML is not translated!
Rating: Bad Good
Enter the code in the box below: